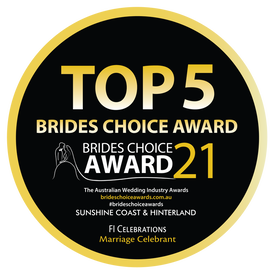 Fi made our day absolutely perfect! She is a wonderful, bubbly celebrant who was happy to travel within Sunshine Coast region for us. She was also really happy for us to personalise our ceremony which was really accommodating and her costs were very reasonable. Would 100% recommend to anyone getting married in the Brisbane/Sunshine Coast region

Zena and Tom - April 2021
Married at Laguna Lookout
Noosa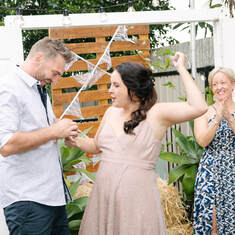 Words can't express how amazing Fi is!!!! From our first point of contact right through to our wedding day Fi was fabulous. Fi is very professional but friendly loving fun and easy going all rolled into one. Fi made our perfect and understood exactly what feel we wanted and she just flowed with it all.
​Book your wedding with Fi you will have the best ceremony!

Jo - Sippy Downs - March 2021
Sunshine Coast
Fiona was the perfect celebrant for our day! She was a pleasure to deal with and made everything flow smoothly. Fiona took the time to get to know us/our story so that our ceremony was unique to us. We received so many compliments about how lovely our ceremony was. Thank you Fiona
​
Bianca and Philippa - November 2020
Married at Paw Paw Cafe, East Brisbane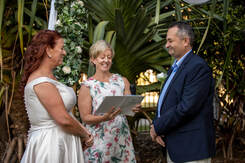 We had the pleasure of having Fi be our celebrant for our wedding in October 2020. Fi made our day special and cherished. She guided us to a perfect Ceremony..Thank you Fi...Regards
​Toni and Simon - October 2020
Married at SurfAir, Marcoola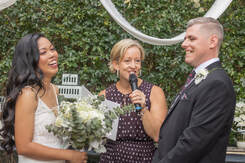 Married at ​I would absolutely recommend Fi Celebrations to anyone who is on the look out for a marriage Celebrant.
Fi made our day so special and stress free, very relaxing, calming lady who you can have a bundle of laughs with. Fi is very well organised and professional and will work with you on how you want your special day to be.

Mark Corrigan - October 2020
​Married at Hillstone, St Lucia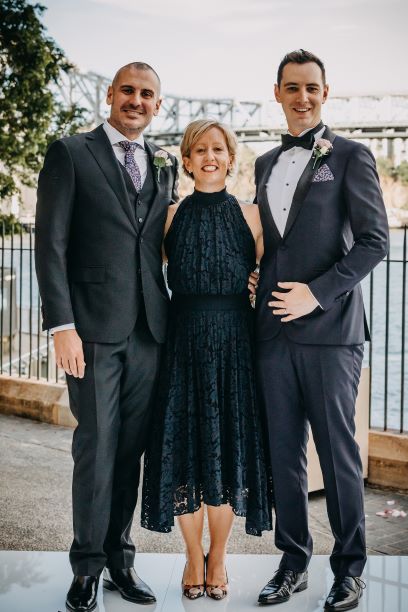 Hi Fi, We just got the wedding video tonight. Thank you so much. We had as many tears again as we did that day. We can't thank you enough. It was absolutely amazing.
Thanks
​John and Gavin - September 2020
​Married at Customs House, Brisbane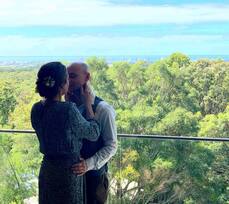 Fi just made everything so easy. We felt no stress or pressure on the day itself or in the lead up, Fi just did all the work and all we had to do was turn up! Fi is very warm, down to earth, easy to talk to, and a great observer of people. Thank you for giving us such a fun and relaxed wedding ceremony Fi!

Natalie Fletcher - September 2020
Married at my home in Buderim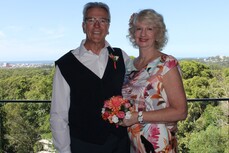 ​Fi is a lovely person whose love for life can only make you feel comfortable and happy that things will go well on your wedding day. She is very organised and approachable, and ready to work with you to give you what you would like on the day. Thank you Fi for your part in making our wedding day so much more than we had anticipated.

Kaye Baggott - July 2020
​Married at my home in Buderim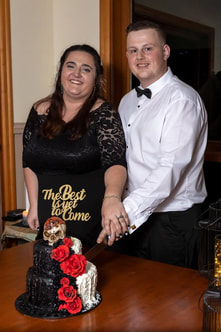 ​Thank you so much for all of your support an awesomeness!! Throw the whole process you were very bubbly, polite an professional and just gelled in with my family so well making our day a little easier
Thank you again so much for all of your help x

Jess Collis - June 2020
Married at Maleny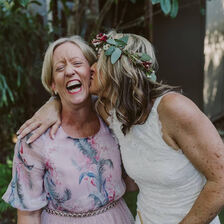 ​Fiona went above and beyond as our wedding celebrant and both Craig and I agree we could not have asked for a better, more organised celebrant for our wedding. Before, during and following the wedding, Fiona was inspirational, heartfelt and loads of fun whilst delivering the most perfect ceremony in a confident, stress free and professional manner. Fiona managed all the paperwork, guided us in writing our vows and ensured we stuck to the time-frames to make the big day perfect and seamless.
I can't recommend Fiona enough with her infectious energy, bubbly personality and attention to detail; Fiona cares as much about your big day as you do providing that perfect balance of good service, personal touch and guidance and understanding on this big, emotional occasion!
Thank you Fiona for making our day so special; we are so lucky to have had you share the journey of our wedding day as our celebrant and now as our wonderful friend for life!

​Sim Allensbach - September 2019
Barefoot at Broken Head Byron Bay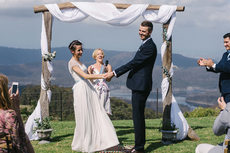 Fi was an amazing celebrant for our wedding. She was understanding, easy going and made sure the ceremony included everything we wanted and was delivered perfectly. Her communication was excellent both before and in the lead up to our wedding. I would highly recommend her to anyone looking for a down to earth and reliable celebrant. Thanks for everything Fi!
Michael Rolfe - October 2019
Married at Rosemount Estate, Beechmont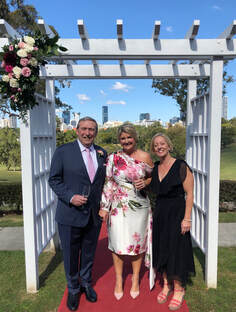 ​Fi was the most wonderful celebrant!
She was everything we wanted and needed her to be and so much more. Her beautiful way immediately made us and our guests feel at ease and excited about the ceremony.
Our day was extra special, as my Dad was very sick and having him walk me down the aisle took time, Fi's kindness and organisation around this was so very much appreciated.
We would absolutely recommend Fi if you are wanting a celebrant who is kind, thoughtful in their preparation, and a beautiful person to be a part of your special day.
Thank you Fi
​Kate Bonifant - October 2019
Married at Victoria Park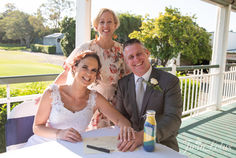 ​Fi was amazing officiating our wedding. Fi truly went above and beyond with her help in preparation for the big day. Our friends and family loved you just as much as we did. The ceremony was awesome and we really appreciated your checking in and reasurrence throughout. We hands down recommend Fi to anyone looking for a celebrant. Thanks again

Briar Pearman - October 2019
Married at Wynnum Golf Club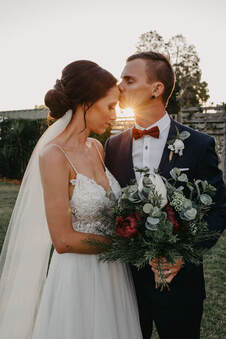 ​A massive thank you to Fiona for all her hard work and effort she put into our big day! She did such a great job and I would highly recommend her to anyone looking to get married. She listened to our needs and wants and created exactly what we were after. She was also very patient with our little 9 month old who wanted to be part of our big day! Thank you from the bottom of our hearts

Rebecca Mackie - September 2019
Married at Sandstone Point Hotel
​Huge thanks to Fiona, for helping to make Pete and My wedding day such a lovely and memorable one. Fiona was professional and friendly at all times allowing us to have a wedding that reflected our personalities. Ours was a wedding of fun, laughter and maybe the occasional tear of joy, which was just what we asked for. We could not have asked for more, from writing the ceremony, to organising the legal side, Fiona calmly guided us along the right path. We had a truly sensational day, and Fiona was definitely an integral part of that. Thanks Fiona.

​Andrew & Pete xo - June 2019​
Married at Oxlades, New Farm


Fi is a true professional with a calm and caring style, whom really added to our Wedding Day. The day was perfect, and afterwards we both said we are so glad Fi married us and couldn't imagine anyone else doing it. Fi was amazing and made our day perfect. Thank you Fi.

Mark and Madeline x - April 2019
Married at Walkabout Creek








​

​

We could not have asked for a better celebrant to officiate our recent wedding. Fi is extremely friendly, very reasonably priced, always contactable and very helpful throughout the whole process. I would not hesitate in recommending Fi to anyone. Thanks so much for everything you did for us Fi. X

​Niki and Danial - November 2018
​Married at Riverlife