Congratulations. You have decided to renew your vows. What a special decision. Let's celebrate!

Review - November 2019
We were very lucky and privileged to have a wonderful, helpful celebrant such as Fiona, to lead our lovely vow renewal ceremony when we celebrated our 30th Wedding Anniversary in Noosa. Her warmth, confidence and bubbly personality put us at ease, and she made the moment very special for us. Fiona organised a certificate, and also took some of our photos, as we had a small, personal ceremony with our daughter, son-in-law and two little granddaughters present to join in our celebration. Our wish for a small and simple ceremony was delivered by Fiona, seamlessly and guided in a fun, relaxed way.

Thank you so much for making our special day so memorable. It was just lovely.

Jody and Peter - NZ
Renewed Vows - November 2019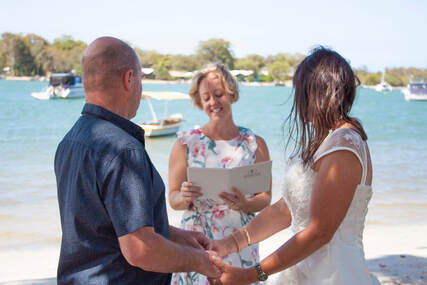 ​
I have been married for 11 years and enjoy our anniversary at the Maritime Museum with our family.
To reaffirm your vows is very special and is an occasion to celebrate.